The Mi 10 ultra is Xiaomi's newest device and it has its most advanced camera system that brings the craziest charging speeds you have ever seen.
The Back camera is the most amazing and impressive – it comes with everything you can ever imagine in the world of recent technology, that is, a 48MP camera sensor which relies on a new Omni-Vision with an OIS lens then comes another 48MP Sony camera with a 5x zoom lens, a 12MP portrait for photos and a 20MP camera with a 12mm ultra-wide lens for ultra-macro shots.
The phone is far one of the best phones you can buy so far because it pushes the limits of mobile technology with the latest screen, super-fast charging, and top-notch cameras.
MI 10 Ultra: Key Features
Design
The Mi 10 Ultra is a flagship design for a flagship phone, made of an aluminum frame with Gorilla glass and it's comfortable in the hand with the transparent edition.
It is super cool through the clear back when you gaze upon the phone's internals although we're pretty sure parts of what you can see are just stickers.
The most amazing design feature is the Quad camera arrangement. The camera bump is quite large that when you're holding the phone it's very noticeable but using a protective case is less uncomfortable due to that camera bump.
Holding this phone might feel comfortable for other people because everybody has a different hand size from the small, medium, and large, experience may vary.
Display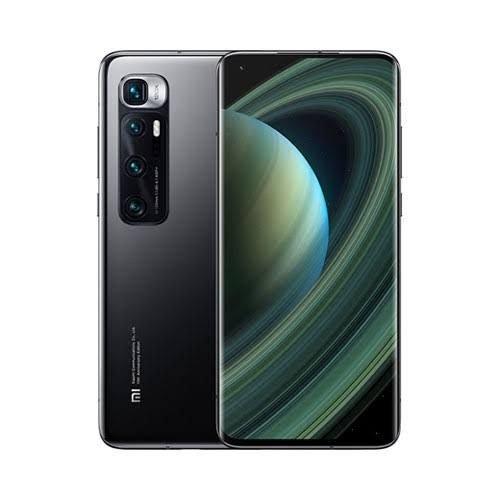 The Mi 10 Ultra is built around a curved 6.67 inch OLED display which has a small punch hole cut-out for the 20-megapixel selfie camera.
This display has a 1080p resolution with an impressive fast 120-hertz refresh rate & a super responsive 240-hertz touch sampling rate so moving objects look smooth.
On top of that, the interface itself is the newest MIUI 12 over Android 10. For unlocking the phone there's an under-display fingerprint reader which is quite fast and responsive.
Audio
The media experience is rounded out by a pair of stereo speakers, also there's no headphone jack but plenty of on-board storage for your media, up to 512GB which isn't expandable.
Camera
The MI 10 Ultra's headline feature is its impressive camera setup.
There's;
A 48 megapixel Quad Bayer main camera,
A 48 megapixel Quad bear Periscope telephoto camera with five times optical zoom,
A 12-megapixel telephoto camera with two-times optical zoom,
A 20-megapixel ultra-wide camera with autofocus that can take macro shots.
overall, the camera provides an incredibly well rounded and versatile camera experience day or night.
Performance
According to benchmark scores, Mi 10 ultra could be the best setup out there now. The Mi 10 ultra has a flagship-grade Snapdragon 865 chipset with peak performance.
The phone comes with a liquid cool 2.0 vapor chamber and a graphite heat sink for thermal management which is excellent for sustained performance and thermal management.
Battery
Another great feature of the Mi 10 Ultra is fast charging. The phone has a massive 120 Watt turbocharger in the box.
Xiaomi claims
"can charge the 4500 mAh battery from 0% to 100% in just 20 minutes".
The phone also supports an incredible 50-watt wireless charging and 10-watt reverse wireless charging which are both the fastest.
Conclusion
The device is an awesome flagship for anyone who wants a high-end camera phone that can top up his battery as fast as possible and also the price is decent, starting at the equivalent of $900.
The phone has a major flaw which is availability because Xiaomi doesn't intend to sell this device outside of China.