Samsung is going for the smartwatch crown for Android with a few quirks it has the potential.
Samsung has made many smartwatches and through all that experience the company has refined its Tizen software so much that it has completely ditched Google's Wear OS.
The Galaxy watch 3 is the latest effort to keep up with reigning smartwatch competitor Apple, introducing familiar features like fall detection and ECG. Samsung also improves their sleep tracking to perform faster than Apple. The hallmark physical rotating bezel is still a superior way to navigate a smartwatch. Watch 3 is priced at $400.
Galaxy Watch 3
Design
The Galaxy Watch 3 is noticeably lighter and slimmer which doesn't feel as overwhelming. Its stainless-steel case is shinier and classier than the Galaxy Watch active 2, although its underside is noticeably chunkier.
There is also a bump in between the two buttons on the right side that prevents them from accidentally being pressed.
Features
The Galaxy Watch 3's new features revolve around making it a better health and fitness companion, the upcoming ECG tool along with the new blood pressure readings helps provide more insight to your overall health but these are pending a software update and regulatory approval.
Running Coach
Samsung's not the first company to provide real-time audio and visual feedback on your jog but the latest wearables from apple & Fitbit don't offer this.
Additionally, Samsung is doing it for free which is rare after selecting a goal from options like light running, calorie-burning, and speed endurance, you can start your running. The light mode guides you through four stages at gradually increasing speeds and the watch buzzes to tells you to either slow down or speed up to hit the targets.
The watch would say things like great pace, keep up this pace or think positively you're getting closer to your goal with every step which's meant to be encouraging but delivered in its robotic voice.
Galaxy Watch 3 shows a more comprehensive analysis for running than other workouts with average heart rate, session duration, and calories burned, you'll see feedback on your symmetry, contact time, flight time, stiffness, and regularity with advice on what areas you need to improve.

You get more guidance like suggested drills and charts showing your cadence and pace when you view your session in the Samsung Health app on your phone, A feature that will be appreciated by exacting athletes.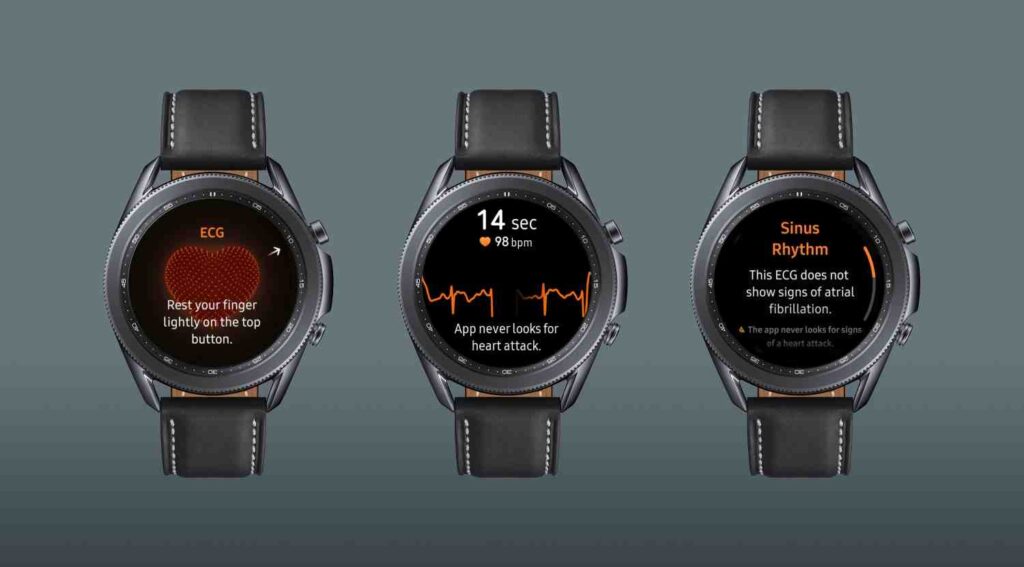 Sleep Tracking
Samsung updated the watch 3's sleep tracking to use the heart rate monitor and accelerometer data which is a very similar approach to Fitbit and uses the info to estimate how much time you spend in zones like Rem, light sleep, deep sleep, or when you are awake.
Samsung will count the time you spend to sleep and other factors like restlessness to assign you a score.
Health Tracking
Tizen OS health tracking outshines Wear OS and Fitbit OS,
it offers a helpful widget for tracking your food and water intake, stress tracking with guided breathing to help you relax and prompt easy exercises when ideal for 1hrs.
Heart rate monitor to check your heartbeat and Blood Oxygen reading to access your health using pores, temperature, blood pressure, and respiratory rate
Fall Detection
In life-threatening situations, Watch 3 can determine when you fall in to get help or you can push the home button on the right side three times to call your emergency contacts and share your location with them to.
Sync
One of Samsung's smartwatch strengths at least against competitors like Fitbit and Garmin is how it syncs with your phone.
Tizen is far better equipped at handling things like replying to messages, controlling your music, summoning an Uber, or controlling your smart home.
When you receive a message, the watch will show some of the exchange before it so you can get some context for your conversation. Pictures and messages also show up in notifications which is something the Fitbit and Garmin's don't offer.
If you want to, you can also use the Samsung watch to call your friends and the onboard mic will make you sound clear. The speakers are loud enough to hear over some light background noise too.
Conclusion
Watch 3 has a robust and well-rounded set of features. With the Galaxy Watch 3, Samsung easily holds onto the title of the best smartwatch for Android users.
An honour held for the past two years.