Today we are going to have a first hands-on, all about Samsung Galaxy A51. Samsung's Galaxy A-series is known as mid-range smartphones but far from being as expensive as the Galaxy S flagships.
The A-series is one of Samsung's most popular smartphones and Galaxy A51 in particular is one of these smartphones. Samsung is making a big push to get people into buying those kinds of phones.
Galaxy A51 Review
Display
The screen is 6.5 inches OLED display at 1080p which is a big screen and gets pretty bright for outdoor usage.
Having a big screen and display like this is awesome and I don't think there are a lot of other USD 400 phones out this year with screens which are this good except with a whole bunch of selfie camera and that's fine.
I have no problem with the hole-punch selfie cutout camera but Samsung did do something new with a shiny chrome ring around the selfie camera which is in the middle of the screen. The shiny chrome ring is visible and sometimes distracting.
There is a fingerprint sensor underneath the display which a bit slow, it's an optical sensor. Staring at the optical sensor on the display, there is this little green circle design and it unlocks in under a second.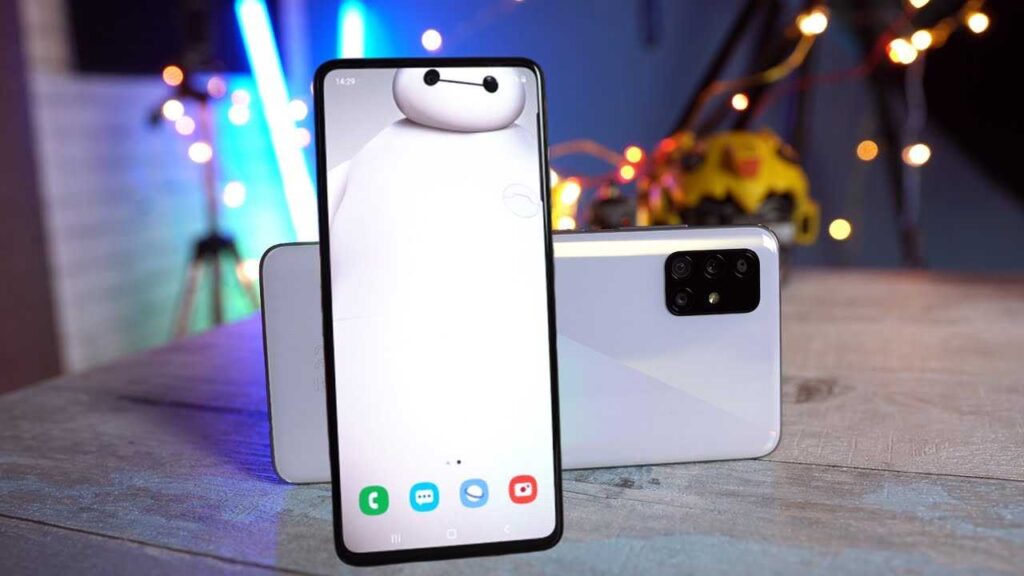 Camera
A Quad camera setup with a nice bar design;
The main camera is a 48-megapixel sensor that shoots at 12-megapixel images by default.
12-megapixel ultra-wide sensor.
5-megapixel macro sensor and
A depth camera.
The selfie camera inside that chrome ring is 32 megapixels.
The photos are good for a USD 400 Samsung phone, white balance is okay. Samsung used software to remove shadows in daylight photos but during night photos it just freaks out and takes terrible pictures, the details when you zoom in are just kind of messy.
The ultra-wide and the macro lenses take great photos.
Performance
The battery to be honest after testing battery life doesn't suck, you'll probably get more than a day with awesome expectation because it has a 4,000 milliamp battery and it has a processor which is Samsung's Exynos 9611 which is an overclocked version of the last one and so it should be fast but it's not.
You can tell and it's trying hard even with 4gigs of RAM on it and you could tell that it's just kind of slow when you're using an app and gaming which is okay but sometimes it just makes you wait. There's no wireless charging but there's128 gigs of storage which is expandable with a micro SD card, included is a headphone jack.
Conclusion
The overall design and build quality of this phone is nice, the material is sort of like plastic and glass but it's doesn't feel cheap and it looks premium. I like the design of this phone.
The Galaxy A51, it's not an overachiever and performs exactly as well as you would expect a $400 Samsung phone to perform in 2020 which is better than it would have been a couple of years ago but it's still not awesome.
You do get a really solid big 6.5-inch screen and it is the best thing about this phone because the screens are really important on any phone